Landlord's Guide to Replacing Carpet & Flooring
Questions to Ask a Carpet Installer
Before you begin calling around to find a qualified carpet installer, here are important questions you should ask any flooring installer before you hire them.
1. Are you licensed bonded and insured?
Many States now require contractor certification. Take the time to call the State Contractor Office and verify that the license is current and see if there have been any claims against it. If your State does not require a license, always hire an installer that has business liability insurance. This will help protect you in the event of an accident or injury while they are working on your property.
2. What is your state issued contractor registration number?
You can call the State and verify the status of his license and see if there have been any complaints filed against the installer.
3. How long have you been installing carpet?
Always ask for references and require at least 5 years experience. If your job is more complex I suggest you find a carpet installer with at least 10 years experience.
4. How much do you charge per yard?
The going rate for apartment grade carpet varies in geographical areas. Don't assume that the cheapest price is the best price. It can be wise to pay a little more for a job well done. Be sure to ask if there are any extra fees and charges that you might incur. There is usually an additional charge for removing the old carpet and pad, installing carpet on stairs, special transitions, and custom work.
5. How long do you guarantee your work?
Most carpet layers will offer a one-year warranty. Better installers will offer two years and some will even offer a lifetime warranty. If your carpet comes loose or develops wrinkles it is nice to know you can have it fixed or repaired at no charge to you.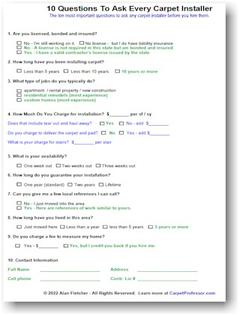 Print my free
Carpet Installer Questionnaire
Looking to hire an independent carpet installer?
This questionnaire will help make sure you ask every potential carpet installer all the right questions - Before You Hire!
Learn more: