Landlord's Guide to Replacing Carpet & Flooring
Flooring Installation Inspection Checklist
Many apartment owners and managers have tried using maintenance personnel to install new carpet or flooring in an attempt to save money, but it rarely works out.
You may be able save money by having your maintenance crew tear out the old carpet and padding and dispose of it in a proper way, but when it comes to installing new carpet, tile, laminate or vinyl should always be performed by professionals.
Have apartments or rental properties? You need to inspect every flooring installation right after completion. Use this handy 20-question form to make sure your carpet and vinyl flooring has been installed properly and nothing has been left undone.
This form will help you keep track of flooring replacements in each unit, when it was done and who did it. You will save money in the long run by making sure your new flooring lasts as long as possible. Free to print and use.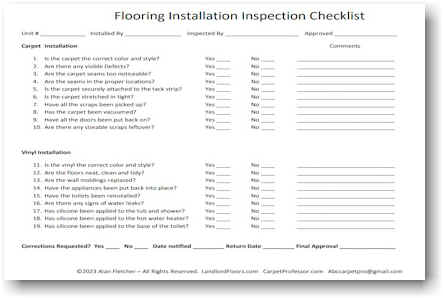 Click on image to print or view.