Landlord's Guide to Replacing Carpet & Flooring
10 Ways to Reduce Carpet Replacement Costs
How to Save Money on Apartment Carpet & Flooring Replacement Costs. Tips and Strategies for Landlords, RE Investors and Property Managers.

There are literally dozens of smart ways a savvy rental property owner or manager to reduce carpet and flooring replacement and repair costs.
Here are ten money-saving strategies:
1. Choose a Carpet that meets your needs
The carpet you install in your rental units must be able to endure the normal wear of your typical tenant. You also need to consider the frequency of your current carpet replacement schedule and whether or not you accept pets.
Install a lower grade of carpet if you need to replace it more often due to pet damage or excessive wear. Install a better grade carpet if you do not allow pets and your tenants are generally not overly rough on your carpets.
The trick to saving money here is to select a grade of carpet with a life expectancy equal to or exceeding the lifestyle and average length of stay of your average tenant. Many factors may contribute to this approach including the average age of your tenants, number of children, average income, occupation, pets, local climate, etc.
Spending an extra dollar or two per yard on a carpet upgrade can add several years to the life expectancy of your carpets. It could be well worth the added expense if you do not allow pets and your average tenant stays for at least 5 years. It may be a waste of money if your average tenant stays less than 5 years or you allow pets.
2. Select a Continuous Filament Nylon Carpet
Nylon is the recommended carpet fiber for rentals. Nylon outperforms all other fibers and is the most durable and easy to clean. Using a Continuous filament Nylon (BCF) carpet will help eliminate the shedding, fuzzing and pilling that is often observed with staple fibers. Carpet samples of continuous filament Nylon may be labeled BCF (bulked continuous filament) or CFN (continuous filament nylon)
3. How to Save 10 to 15% or more on your padding costs
In most cases, installing new carpet requires about 10 to 15% less padding than carpet.
For example: If your 3-bedroom rental unit requires 100 yards of carpet, you probably only need 85 to 90 yards of padding to complete the job. Unlike carpeting, padding can be turned in any direction and even the most modest scraps of padding can be utilized. It may require a few extra minutes of work for the installer or his helper, but you will enjoy significant savings.
It has long been the industry standard to charge for equal yardage amounts of carpet and padding. Some flooring retailers or vendors may be reluctant to negotiate with you regarding this area of potential savings.
4. Know all your padding options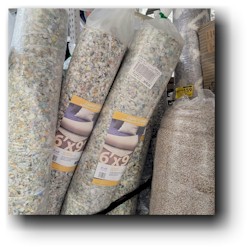 The lifespan of your carpet depends on using good quality padding. What type of padding are you currently using? How much are you charged for it?
There are many types of pad available and you may not be aware of all your padding options. With typical apartment-grade plush carpet, a 7/16" inch, 6-pound, Rebond padding is commonly used in rentals.
5. Consider re-using all or part of your existing pad
When its time to replace the carpet in a rental, consider reusing some or all of the existing padding. Depending on the age, quality and condition of your existing padding, you could save a significant amount of money by replacing only the areas that really need replacing. Of course, someone will have to make the judgment call after inspecting the condition of the padding.
Most often, the hallways and main traffic areas will show the most wear and replacing those areas may be a good idea. Padding in other areas may still be in good condition and you could install the new carpet right over the top. Prices for new padding vary according to thickness, density and type so if you are able to reuse 80 yards of padding, you could be saving some serious money over time.
6. Choose the Right Padding
If you allow pets in your rentals it makes good sense to use a less-expensive padding since your chances of reusing the padding are greatly reduced. You could use a less expensive padding and save yourself some money.
You might consider using a 3 or 4 pound 3/8" inch, Rebond padding and only spend as little as possible. The overall savings would add up quickly and you won't lose as much money when the carpet and padding needs to be replaced again in a year or two.
7. Remove your old carpet & padding yourself
Most carpet installers charge between fifty cents and two dollars per yard to remove and haul away your old carpet and padding. If you do remove it yourself you could be saving $40 to $160 on a typical 2-bedroom, 80-yard unit.
Consider having your maintenance people do the removal prior to the carpet installers arriving and perhaps use an onsite garbage dumpster to dispose of it.
8. Communicate and make your wishes known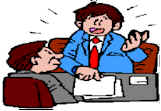 Keep your flooring contractors and vendors well informed and you can save time and money. Confusion can quickly undermine even the best-laid plans. When scheduling carpet replacements, be sure to inform your flooring provider of all the pertinent information they may need to know.
For example, notify them in advance if there are any signs of pet damage, water damage or dry rot. This would help the flooring installers to arrive well prepared and to be able to complete the installation in a timely and efficient manner.
9. Educate Your Tenants
Your tenants can help you save money too if you let them know what you would like them to do. For instance, to make carpets last longer they need to be vacuumed regularly.
Inform your tenants about this basic rule of thumb for vacuuming carpets: Vacuum as many times per week as the number of people living in the home. For example, if there are three people living in the household, vacuum three times per week.
"Educate your tenants on a frequent basis by using a simple one-page newsletter or simple flyer posted on their door or sent via email to convey useful and important information."
10. Inspect Carpet & Flooring installations before the installers leave!
Before the carpet or flooring installer leaves, M\make sure the correct carpet style and color has been installed, check for proper installation, and look for any defects in the carpet itself. Early detection of simple problems is the best way to help avoid delays in renting your units.
"Make sure the Carpet installers check in with you before they leave. Take the time to inspect their work and make sure the job was done properly."
It is very important to inspect your new carpet or flooring right after it has been installed. It only takes a few minutes of your time and could save you precious time and money if you detect a problem.
If there are any obvious installation issues or problems, such as ugly carpet or flooring seams or the flooring material was installed improperly, then you need to let your flooring installer know before he leaves so he can fix the issue immediately, or contact your flooring service provider to come out and inspect the floor and arrange to have the problem fixed as soon as possible to obtain the quickest remedy for the problem.
Let's face it, sometimes a carpet or flooring installer does a lousy job. You can't let this go! It can cost you hundreds or even thousands over the long run! It's your job as a savvy landlord or a trusted onsite property manager to make sure you don't end up stuck with a lousy carpet or flooring installation that you should have quickly identified and made proper arrangements to have the issue corrected at no cost to you!
If you fail to recognize these key issues, then your new flooring will not last as long as they were designed to last! If your new flooring should last for 10 years, but due to being installed poorly, only lasts for 5 years, then what is the end result to your pocketbook!
Print and use my free